From our friends at Destination Mansfield – Richland County:
Weaving through Mansfield, Galion, and the surrounding area, the Wine & Ale Trail guides you to a mix of breweries, wineries, and wine bars each dedicated to honoring local history. Raise a toast to grand architecture in a historic bank vault, taste tradition in an old-world brewery, and pay homage to The Shawshank Redemption (filmed in Mansfield) with themed wines and ales.
Inside Laxton Hollow Brewing Works — one of the nine stops on the trail — the polished woodwork and framed photographs resemble an English pub. Here you'll find rare cask ales, beer fermented naturally in steel casks without any artificial carbonation, just like in a traditional English pub. Laxton Hollow is one of only 14 breweries in the U.S. specializing in cask ale and the only one in the state. Prior to Prohibition, all brewers conditioned ale this way, and owner Ken Dudley is passionate about preserving the historic process.
"It's different than any craft beer you've tasted," he says, noting the subtle and complex flavors, "The experience is worth it." Old-world brass and porcelain beer engines are pumped by hand to siphon beer directly into your glass; everything from the ingredients to the process is different. For first-timers, Dudley recommends "Lord Badger," a quintessential English pub-style bitter with a smooth, subtle taste.
In the heart of downtown Mansfield, The Phoenix Brewing Company is easy to spot, just look for a brick building with the fiery orange image of a phoenix framed in a gothic window. For Scott Cardwell, co-owner, this image represents Phoenix's goal: to bring new life to the historic building with locally brewed craft beer. Coffin-shaped tasting trays and the well-maintained original features of the building hint that in 1914 this building was a mortuary. "I love sharing Mansfield's history," Cardwell says; he often tells the building's story as he serves customers. The Phoenix, like many stops on the trail, also pays homage to another piece of Mansfield lore — The Shawshank Redemption. Of their rotating menu offering 16 beers on-tap, a few reference the iconic film. The Rooftop Bohemian Style Lager mimics the style of beer given to inmates working on the roof in the movie; Rockhammer Session IPA, created just in time for the film's 25th anniversary, is named for the tool Andy used to escape prison. Take your beverages outside on one of their two patios and enjoy the vibrant community atmosphere. In the summer, "The Brickyard," Mansfield's outdoor amphitheater right next to the brewery's patio, hosts local food trucks and features live music.
The trail is easy to navigate, as each stop is only a short drive away and some are within walking distance! Across the street from The Phoenix, you'll find another culinary reincarnation of Mansfield history. A former 1920s Hudson and Essex automobile showroom now houses the Hudson and Essex fine-dining restaurant and Cypress Hill Winery (located on the lower level). Silver accents and vintage photographs highlight the building's history. The history runs deeper, though, because underneath the property lie historic stone caverns, once used to store beer during the prohibition era. When renovations on the caverns are complete, the space will be open for tastings and private events. This stop offers fine-dining options, draft beer, and locally made wine from 28 varietals of California grapes.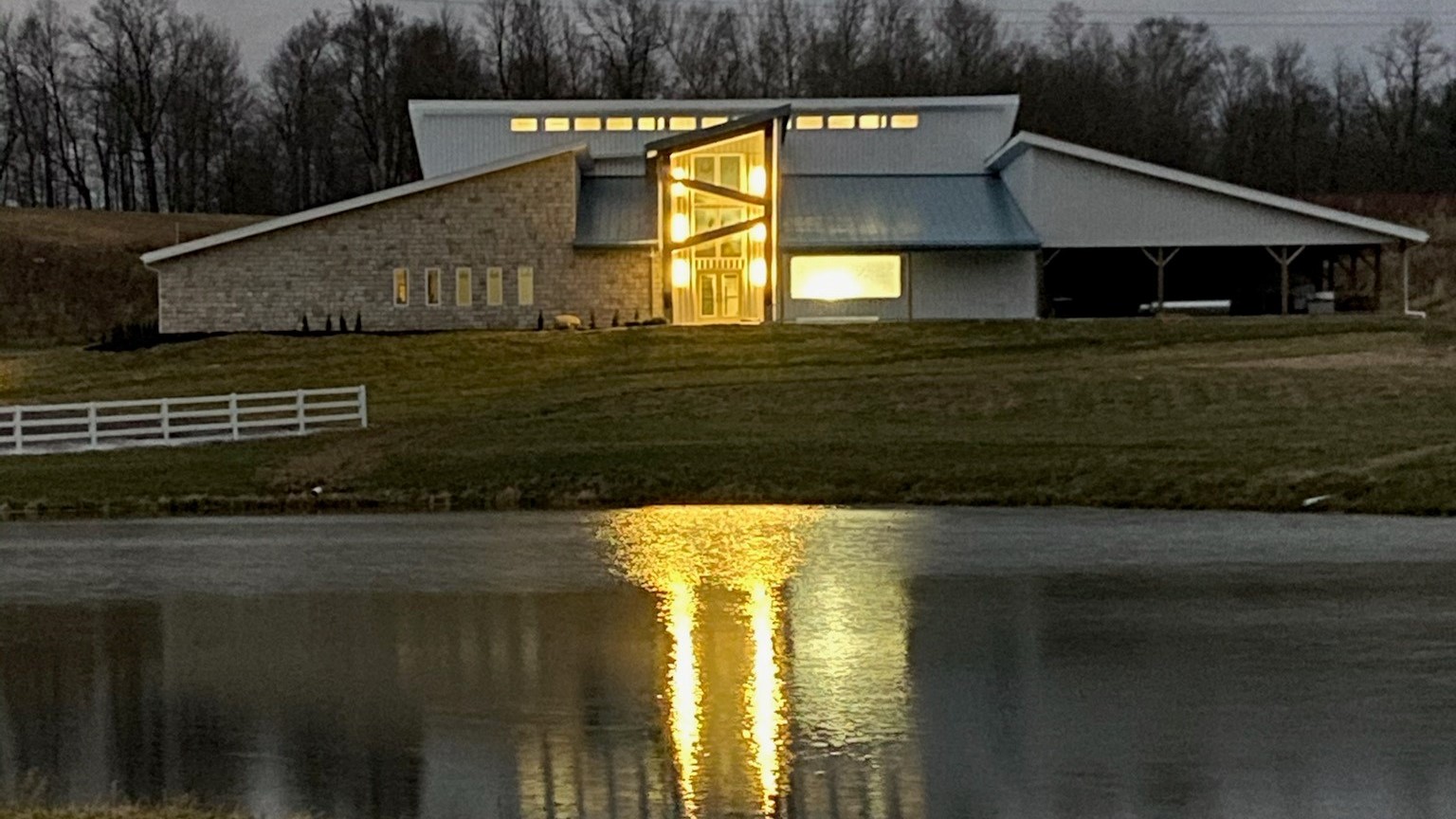 The next winery's architecture will have you swooning, too. 1285 Winery at the Blueberry Patch used to be a greenhouse, built by the owner's family. Fifty-seven trees grown on the 27-acre blueberry patch were used to craft the rustic wood paneling. Winemakers have a long history of utilizing local ingredients, and this winery honors that tradition with summer fruit wines made from blueberries grown on-site. Traditional red and white wines are served as well. Make this stop into a full-day trip and visit the current greenhouse, pick your own blueberries, wander the artisanal gift shop and eat at the restaurant or café. The winery offers their own wood-fired pizza. Don't leave without trying the infamous blueberry donuts!
Feeling inspired by the local wines on the trail? At Fox Winery in Galion you can try your hand at making your own vintage. Once you've learned the process, you can purchase wine and beer-making supplies to take home. For a more relaxing evening, sip a glass in the cozy sitting room of the renovated 1861 building. Or choose from 40 different wines to sample in the tasting room; some fruit wines are made from locally grown fruit and even jalapeños! The jalapeño wine, which can be enjoyed on its own or as Bloody Jalapenos or the wine margarita, is a customer favorite.
Right down the street, in the historic Galion business district, 1803 Brewery & Taproom has tapped into local history as the source of inspiration for their craft brews. The Off the Rails Nitro Oatmeal Stout, smooth as smoke and black as coal, will take you back to Galion at the turn of another century when the rail industry boomed and coal engines puffed clouds of smoke into the sky as they passed through town. The Bishops Brown Ale, Harding Way IPA, Peabody Pale Ale, and more are also named with their Galion roots in mind. Taste and discover each story in this neighborhood taproom.
Don't miss a stop in Ashland at Uniontown Brewing Company, located in the historic Gilbert Furniture Store. Exposed brick and up-cycled features of the 169-year-old building bring a timeless feeling to the space and give life to this iconic aspect of Ohio's history. Beer, brewed in-house, honors Uniontown's roots. The Old Man Gilbert Vanilla Porter is named for one of the building's original owners, and the Local 1386 Amber Ale celebrates the community with a nod to the Ashland fire department. Sip on a few over lunch or dinner.
Make your Wine & Ale Trail trip a weekend-long adventure by ending the night at Wishmaker House Winery and Wine bar. Housed in an 1890s home, this winery doubles as a quaint bed and breakfast. The space retains over a half-mile of original crown molding and features an ornate, hand-carved wooden front door. Transformed from a doctor's home office to the Myers Wishmaker House Furniture Store and finally into a winery, bed and breakfast, and restaurant, this historic space embodies the ideals of preservation. Wines crafted on-site and a restaurant menu featuring locally grown ingredients contribute to the community-centric atmosphere.
Be sure to stop at the two wine bars on the Wine & Ale Trail. You might find yourself choosing your next wine from inside a vintage bank vault. The Vault Wine Bar is well-known for both its preservation of the historic Citizens Bank of Shelby and for its diverse wines. The marble walls, 30-foot ceilings and the vault (which now holds wine bottles, not money) are all original features. The building's grand architecture has been a point of local pride since 1911. In addition to keeping its history alive, owners Ben and Cindy Lash have earned a reputation for their menu. They offer 30 wines sold by the glass and over 150 sold by bottle of varieties both local and global, draft beers, and an enticing selection of appetizers and entrees.
Laxton Hollow Brewing Works shares a space with The Happy Grape Bar & Bistro, where you can find wines from around the world, numerous craft beers, and a full bar. Pair your wine with one the bistro's notable dishes, "The Bartlett," a flatbread pizza topped with garlic cream sauce, caramelized onions, pears, brie, and Parmesan cheese. Spend time on the outdoor patio where a 40-foot mural showcases the creativity of local artists.
Some stops on the Wine & Ale Trail focus on showcasing local flavors. Others have fun with regional pride, referencing The Shawshank Redemption or paying homage to local heroes. Yet, one thread connects this diverse collection of wineries and breweries — a passion for keeping history alive. So, raise a glass to the authentic architecture, lively traditions, and timeless tales that shape this trail! Cheers to history!
Learn more about the trail and places to explore, dine, and stay during your visit at destinationmansfield.com.
Image by Vinotecarium from Pixabay